Ordner is a UNICODE program, which helps to organize your JPEG images, using multiple hierarhical categories and auto-categories (EXIF tags are supported).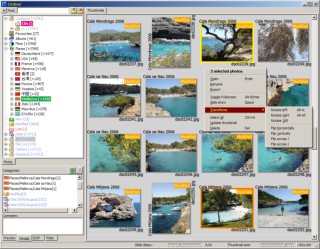 Information about the images is written into an XML file that is always kept together with the images and thumbnails. Comments and any number of categories can be assigned to each image. Multiple hierarhical category trees help to keep track of when and where the image was shot, to create albums, to mark favourites, etc.

Advanced filtering capabilities allow to find pictures matching specified categories. With the help of hierarhical categories it is easy to keep track on when and where the image was shot and who is present on the image, to create thematical albums, to mark your favourites, etc.

CDs with images can also be catalogued for off-line thumbnail browsing.

Powerful export function allows to create autorun CDs with Ordner itself and its database, as well as template based HTML albums or just backup copies of images with corresponding data. It can also be used to prepare data for prints, to resize images, strip meta-information, etc.

Of course, slide show and multi-rename tool are available. Editing capabilities are restricted to lossless JPEG transforms.

This software was created with the help of wxWidgets and uses libEXIF library and FOOOD's icons. Windows x32 and x64 builds are available, as well as experimental (tested only on Ubuntu 20.04) debian package for x64 Linux systems.


Background monitoring of specified folders for new and changed images and thumbnail extraction.


Ordering images according to hierarhical categories. Multiple categories can be assigned to each image. Category data, user comments and thumbnails are always kept together with images. For categories, customizable icons can be used.


EXIF data support.


Auto-categories. Built-in: new, modified, lost, comments. File properties: date, size, type. EXIF: original date, user-defined.


Filter for images that allows any combination of categories.


Thumbnail tab with variable thumbnail sizes and preview.


Multiple tabs for single image views and slide-shows. Direct control over slide-show delay.


Lossless JPEG transformations: rotation, mirroring and flipping.


Multi-rename tool.


Catalogs of removable-media: CDs, DVDs, etc.


Export tool supporting resizing, stripping meta-information, creating template based HTML albums, creating multi-volume autorun CDs with picture albums and Ordner itself with its database.




Full UNICODE support.


Multi-language support, at the moment: English, Russian, German.


Quick find for categories.


Drag and drop folders with pictures from explorer.


Full-screen mode.


[NEW] Windows x64 and experimental Linux x64 debian version.


[NEW] Descript.ion file support. If exists - contents is added to picture comment.


[NEW] Unique categories, i.e. only one of siblings can be assigned.


[NEW] Windows and Linux installers.


Modifies only its own directory and writes XML data and thumbnails into _ordner_ subfolders of picture folders.


Ordner
06.02.2021 Version 1.2
Windows Inno Setup: x32 x64
Linux debian: x64 Experimental, tested only on Ubuntu 20.04, use on your own risk!
Changelog PAD file

Addons
Several 16x16 icons are included into installation. You can find plenty of such icons in internet, e.g. country flags To use 16x16 icons with Ordner extract them into Ordner\icons directly or create a subfolder there.

Previous versions
04.02.2008 Version 1.10 PAD file
Ordner-1.10.exe Flags16x16-1.10.exe

09.11.2006 Version 1.0 PAD file
Ordner-1.0.exe Flags16x16-1.0.exe


You can report bugs and suggestions to

We may implement features which we will find interesting.

Your contributions are also welcome. We will publish nice 16x16 icons for customizing Ordner categories as well as HTML album templates.

If you want to translate the program to your language or to create a build for another platform, please contact us.


downloadready.com: ... Ordner 1.0 was reviewed by downloadready.com and got 5 points award. &gt&gt